Article on 'Italy magazine' no. 47, February 2007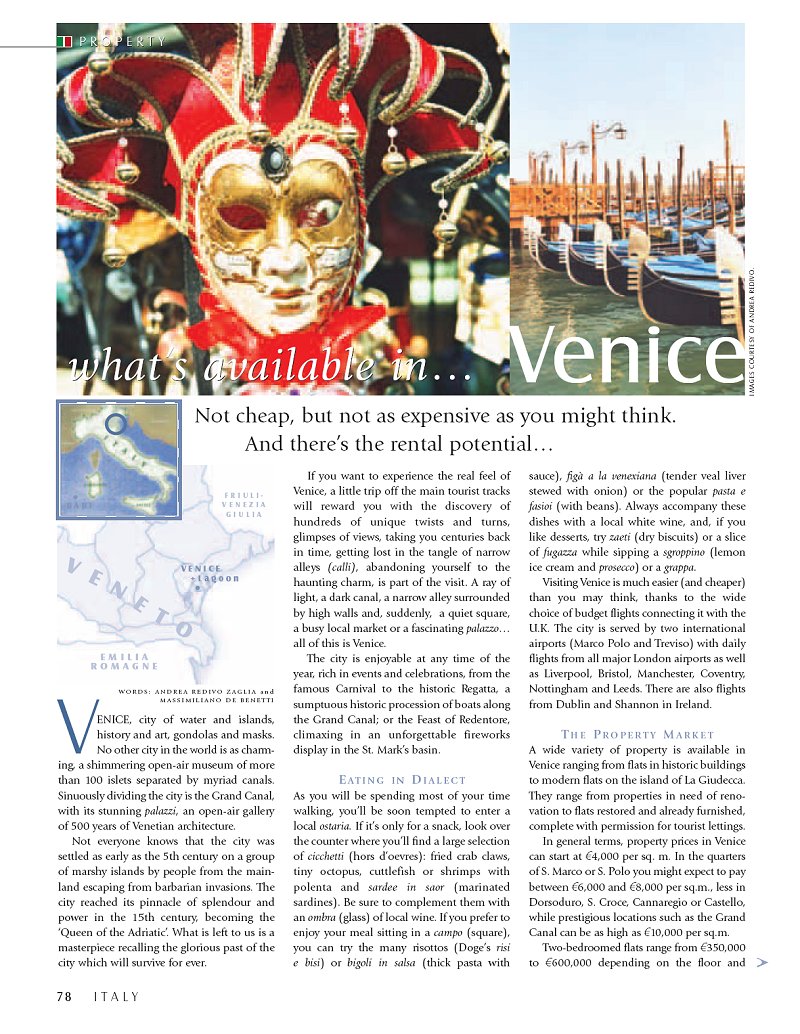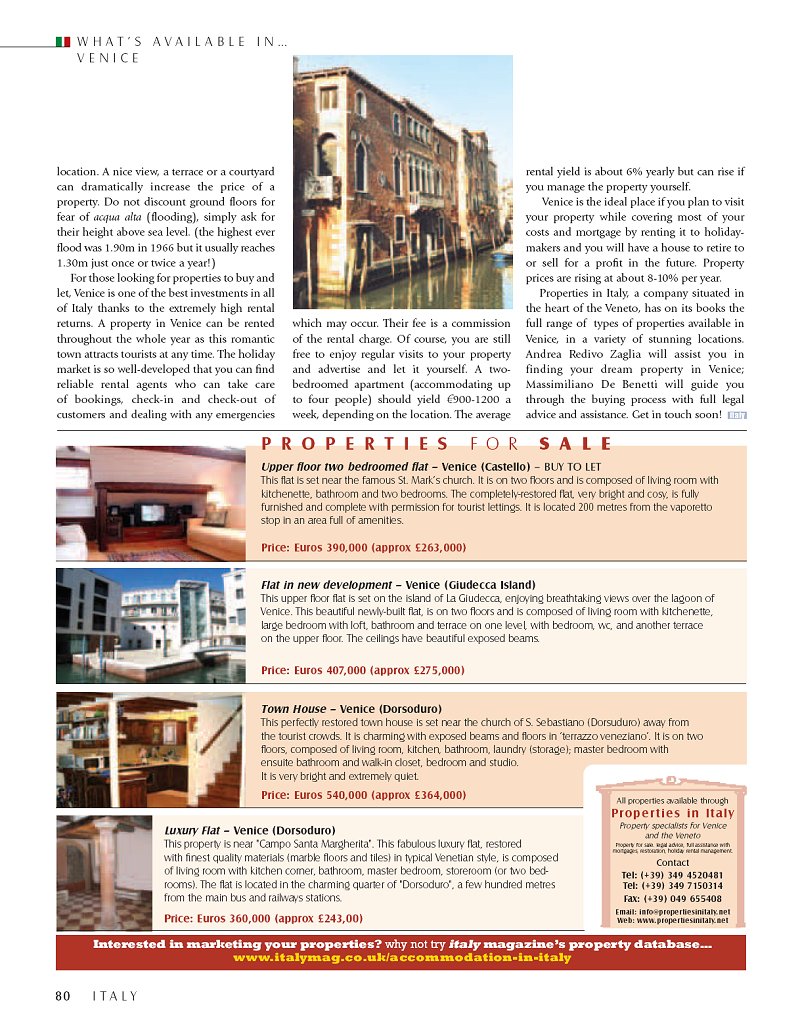 To see our properties in Venice have a look at our property listing.
What's available in.... Venice
Andrea and Massimiliano from Properties in Italy look at the property market in this magical town
Venice, city of water and isles, history and art, gondolas and masks. No other town in the world can be so charming, an shimmering open-air museum of more than 100 islets sepatared by a myriad of canals. Graciously dividing the city, the Grand Canal, with its stunning palazzos is an open-air gallery of 500 years of Venetian architecture. Not everyone knows that the city was settled in 5th century on a set of marshy isles by people from the mainland escaping from barbarians invasions. The city reached its utmost splendor and power in the 15th century, becoming the "Queen of the Adriatic". What is left to us is a masterpiece witnessing the glorious past of the city which will survive for ever. If you want to experience the real feel of Venice, a little trip off the main touristic tracks will reward you with the discovery of hundreds of unique twists and turns, glimpses of views, taking you centuries back in time. Getting lost in the tangle of narrow alleys (calli), abanboning yourself to the haunting charm, is part of the visit. A ray of light, a dark canal, a narrow alley surrounded by high damped walls and suddenly a quite square, a busy local market or a fascinating palazzo.....all of this is Venice. The city is enjoyable in every period of the year, rich in events and celebrations from the famous Carnival to the Historical Regatta, a sumptuous historic procession of boats along the Grand Canal; or the Feast of Redentore ending up in an unforgettable fireworks show in the S.Mark's basin. As you will be spending most of your time walking you'll be soon tempted to enter a local "ostaria". If it's only for a snack, look over the counter where you'll find a large selection of cicchetti (hors d'oevres): fried crab claws, tiny octopus, cuttlefish or shrimps with polenta, sardee in saor (marinated sardines). Don't forget to taste them together with an ombra (glass) of local wine. If you prefer to enjoy a meal sitting in a "campo" (square) you can try the many risottos (Doge's risi e bisi) or bigoli in salsa (thick pasta with sauce), "figà a la venexiana" (soft veal liver stewed with onion) or the popular pasta e fasioi (beans). Always accompany these dishes with a local white wine, and, if you like desserts, try zaeti (dry buscuits) or a slice of "fugazza" while sipping a "sgroppino" (lemon icecream and prosecco) or a "grappa". Visiting Venice is much easier (and cheaper) than you may think thanks to the wide choice of budget flights connecting it with the U.K. The city is served by two international airports (Marco Polo and Treviso) with daily flights from all major London airports as well as Liverpool, Bristol, Manchester, Coventry, Nottingham, Leeds. There are also flights from Dublin and Shannon in Ireland. A wide variety of property is available in the Venice ranging from flats in historic buildings to modern flats in the island of La Giudecca. They range from properties in need of renovation to flats restored and already furnished, complete with license for tourist lettings. In general terms, property prices in Venice can start at €4,000 per sq.m. In the quarters of S. Marco or S Polo you might expect to pay between €6,000 and €8,000 per sq.m., less in Dorsoduro, S. Croce, Cannaregio or Castello, while prestigious locations such as Grand Canal can be as high as €10,000 per sq. m. Two bedroom flats range between €350,000 to €600,000 depending on the floor and location. A nice view, a terrace or a courtyard can dramatically increase the price of a property. Do not discard ground floors for the fear of acqua alta (flooding), simply ask for their height above sea level. (the highest ever flood was 1.90m in 1966 but it usually reaches 1.30m just 1-2 times a year!!) For those looking for properties to buy and let, Venice is one of the best investment in all of Italy thanks to the extremely high rental returns. A property in Venice can be rented throughout the whole year as this romantic town attracts tourists at any time. The holiday market is so strongly developed that you can find reliable rental agents who can take care of bookings, check-in and check-out of customers and dealing with any emergencies which may occur. Their fee is a commission of the rental charge. Anyway you are still free to enjoy regular visits to your property and advertise and let it yourself. A two bedroom apartment (accommodating up to 4 people) should yield €900-1200 a week, depending on the location. The average rental yield is about 6% yearly bu can rise if you manage the property yourself. Venice is the ideal place if you plan visit your property while covering most of your costs and mortgage by renting it to holidaymakers and you will have a house to retire or sell for a profit in the future. Property prices rise at about 8-10% per year. Properties in Italy, a company situated in the heart of the Veneto, has on its books, the full range of the types of properties available in Venice, in a variety of stunning locations. Andrea Redivo Zaglia will assist you in finding your dream property in Venice; Massimiliano De Benetti will guide you throught the buying process with full legal advice and assistance. They are just waiting for you!