Article on 'Italy magazine' no.57 , December 2007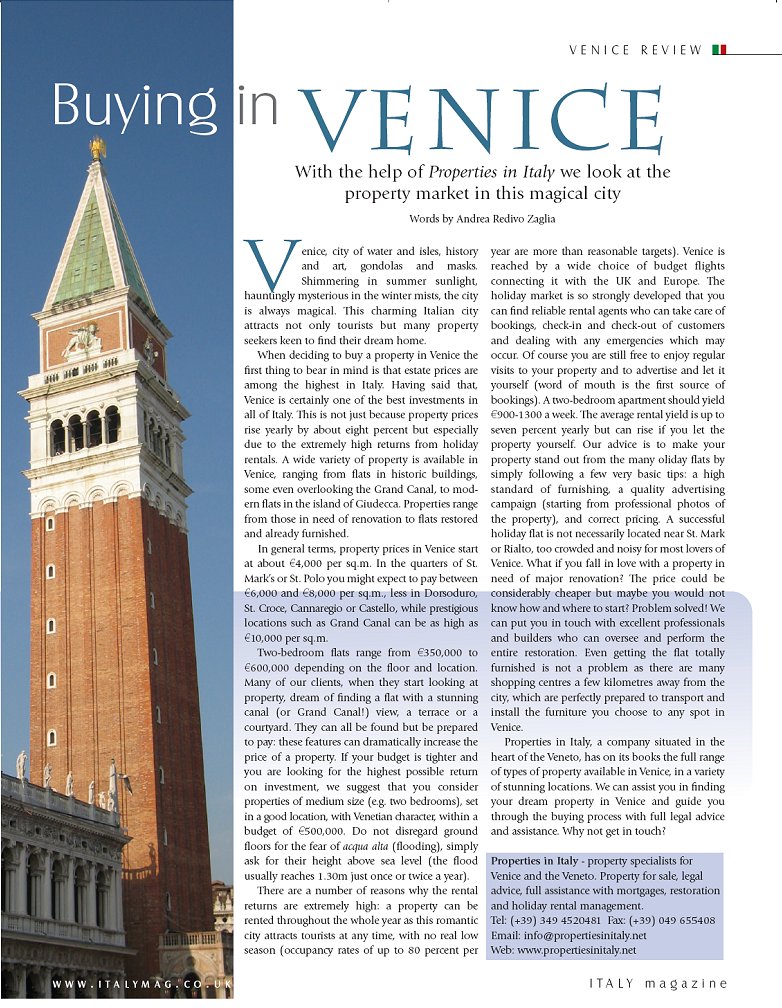 BUYING IN VENICE
With the help of Properties in Italy we look at the property market in this magical city.
Venice, city of water and isles, history and art, gondolas and masks. Shimmering in summer sunlight, hauntingly mysterious in the winter mists, the city is always magical. This charming Italian city attracts not only tourists but many property seekers keen to find their dream home. When deciding to buy a property in Venice the first thing to bear in mind is that estate prices are among the highest in Italy. Having said that, Venice is certainly the best investment in all of Italy. This is not just because property prices rise yearly at about 8% but especially due to the extremely high returns from holiday rentals. A wide variety of property is available in Venice ranging from flats in historic buildings, some even overlooking the Grand Canal, to modern flats in the island of Giudecca. Properties range from those in need of renovation to flats restored and already furnished. In general terms, property prices in Venice start at about €4,000 per sq.m. In the quarters of St. Mark or St. Polo you might expect to pay between €6,000 and €8,000 per sq. m., less in Dorsoduro, St. Croce, Cannaregio or Castello, while prestigious locations such as Grand Canal can be as high as €10,000 per sq.m. Two bedroom flats range from €350,000 to €600,000 depending on the floor and location. Many of our clients, when they start looking at property, dream of finding a flat with a stunning canal (or Grand Canal!) view, a terrace or a courtyard. All can be found but be prepared to pay: these features can dramatically increase the price of a property. If your budget is tighter and you are looking for the highest possible return on investment, we suggest that you consider properties of medium size (e.g. 2 bedrooms), set in a good location, with Venetian character, within the budget of €500,000. Do not disregard ground floors for the fear of acqua alta (flooding), simply ask for their height above sea level (the flood usually reaches 1.30m just 1-2 times a year!!). There are a number of reasons why the rental returns are extremely high: a property can be rented throughout the whole year as this romantic city attracts tourists at any time, with no real low season (occupancy rates of up to 80% per year are more than reasonable targets). Venice is reached by a wide choice of budget flights connecting it with the U.K and Europe. The holiday market is so strongly developed that you can find reliable rental agents who can take care of bookings, check-in and check-out of customers and dealing with any emergencies which may occur. Of course you are still free to enjoy regular visits to your property and to advertise and let it yourself (word of mouth is the first source of bookings!!). A two bedroom apartment should yield €900-1300 a week. The average rental yield is up to 7% yearly but can rise if you let the property yourself. Our advice is to make your property stand out from the many holiday flats by simply using few very basic tips: a high standard of furnishing, a quality advertising campaign (starting from professional photos of the property), and correct pricing. A succesful holiday flat is not necessarily located near St. Mark or Rialto, too crowded and noisy for most lovers of Venice. If you look at property prices and think that you cannot simply afford to buy your dream home in Venice, or the one you like seems out of your budget, then seriously consider to apply for a mortgage. We can easily arrange mortgages with Italian banks for UK and foreign residents. You can pay back the mortgage by renting the property to holidaymakers and have the bonus of a house to retire to or sell for a profit in the future. What if you fall in love with a property in need of major renovation? The price could be considerably cheaper but you would not know how and where to start! Problem solved! We can put you in touch with excellent professionals and builders who can oversee and perform the entire restoration. Even getting the flat totally furnished is not a problem as there are many shopping centres a few kilometres away from the city, which are perfectly prepared to transport and install the furniture you choose to any spot in Venice. Properties in Italy, a company situated in the heart of the Veneto, has on its books the full range of the types of property available in Venice, in a variety of stunning locations. We can assist you in finding your dream property in Venice and guide you through the buying process with full legal advice and assistance. We not get in touch?
To see our properties in the Euganean Hills have a look at our property listing.