Article on 'Italy magazine' no.53 , August 2007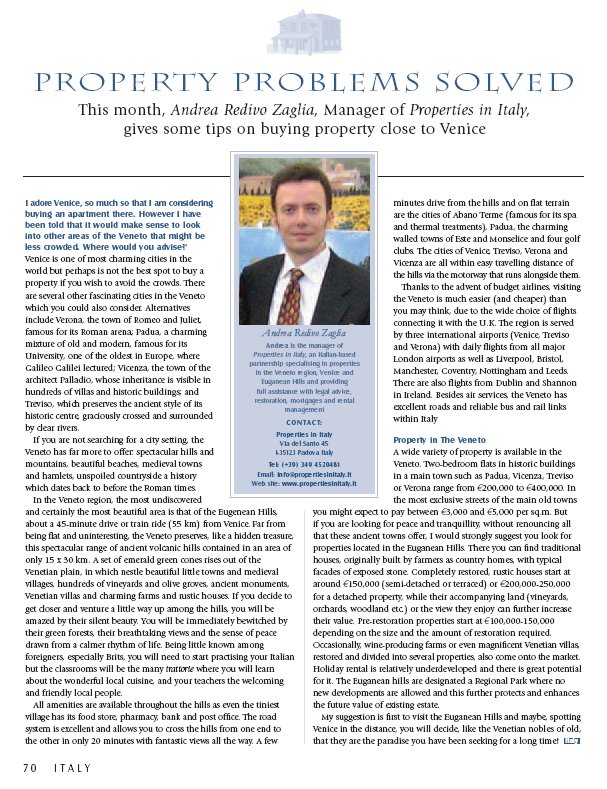 To see our properties in the Euganean Hills have a look at our property listing.
I adore Venice, so much so that I am considering buying an apartment there. However I have been told that it would make sense to look into other areas of the Veneto that might be less crowded. Where would you advise?'
Venice is only one of most charming cities in the world but is not certainly the best spot to buy a property if you wish to avoid tourists' crowds. The city is the capital of the Veneto region and only one of fascinating cities and areas the region is rich of. Verona, the town of Romeo and Juliet, famous for its Roman arena; Padua, a charming mixture between old and modern, famous for its University, one of the oldest in Europe, where Galileo Galilei lectured; Vicenza, the town of the architect Palladio whose inheritance is visible in hundreds of villas and historic buildings; Treviso, which preserves the ancient style of its historic centre, graciously crossed and surrounded by a set or clear water rivers. If you are not searching for a town setting, the Veneto has far more to offer: spectacular hills and mountains, beautiful beaches, medieval cities and hamlets, unspoiled countryside and the history of an area which dates back before the Romans' time. In the Veneto region, the most undiscovered, unknown and certainly the most beautiful, is the area of the Euganean Hills, which is about a 45 minute drive (55 km) of Venice. Far from being flat an uninteresting, the Veneto preserves, like a hidden treasure, a spectacular range of hills, whose extention is only 15 x 30 km. Visible even from the Venice lagoon or simply driving from any direction thorughout the Veneto, you will easily spot them thanks to their peculiar cone shape which betrays their volcanic origin. A set of emerald green cones standing out of the Venetian plain, in which nestle beautiful little towns and medieval villages, hundreds of vineyards and olive groves, ancient monuments, Venetian villas and charming farm and rustic houses. If you decide to get closer and venture a little way up among the hills, you will be amazed by their silent beauty. You will be immediately bewitched by their green forests, their breathtaking views and the sence of piece which will persuade you little by little. Being unknown among foreigners, especially Brits, you will need to start practising your "Italian" but the classrooms will be the many "trattorias" where you will learn about the wonderful local cusine, and your teachers the welcoming and friendly local people. All ameneties are available througout the hills as even the tiniest village has its food store, pharmacy, bank and post office. The road system is excellent and allow you to cross the hills from one end to the other in only 20 minutes. A few minutes drive from the hills and on flat terrain, are the cities of Abano Terme (famous for its spa and thermal treatments), Padua, the walled towns of Este and Monselice and four golf clubs. The cities of Venice, Treviso, Verona and Vicenza are all within reasonable travelling distance of the hills as the main motorways runs just along them. Thanks to the advent of budget airlines visiting the Veneto is much easier (and cheaper) than you may think thanks to the wide choice of flights connecting it with the U.K. The region is served by three international airports (Venice, Treviso and Verona) with daily flights from all major London airports as well as Liverpool, Bristol, Manchester, Coventry, Nottingham, Leeds. There are also flights from Dublin and Shannon in Ireland. Besides the Veneto has excellent roads and reliable bus and rail links within Italy
Property in the Veneto
A wide variety of property is available in the Veneto. Two bedroom flats in historic buildings in a main town such as Padua, Vicenza, Treviso or Verona range from €200,000 to €400,000. In the most exclusive streets of the main old towns you might expect to pay between €3,000 and €5,000 per sq.m. Anyway, if you are looking for peace and tranquillity without renouncing all what these ancient towns offer I would strongly suggest you to look for properties located on Euganean Hills. You can find traditional houses which were originally built by farmers as country houses, with typical facades of exposed stone. Completely restored, rustic houses start at around €150,000 (semidetached or terraced), at €200,000-€250,000 whether detached, while their accompanying land (vineyards, orchards, woodland etc.) or the view they enjoy can further increase their value. Pre-restoration properties start at €100,000 depending on the size and the amount of restoration required, while their average price should be around €140,000-€180,000. Occasionally, wine-producing farms or even Venetian villas, restored and devided into several properties also come onto the market. Holiday rental is relatively underdeveloped and there is great potential for it. The Euganean hills are a regional park where no new developments are allowed and this further increase the present and future value of existing estate. However, my suggestion is first to visit the Euganean Hills and may be, spotting Venice in a distance, you will also decide that they are the paradise you have been seeking for long time!