1st June 2008 - Celebrating the 'Tower'!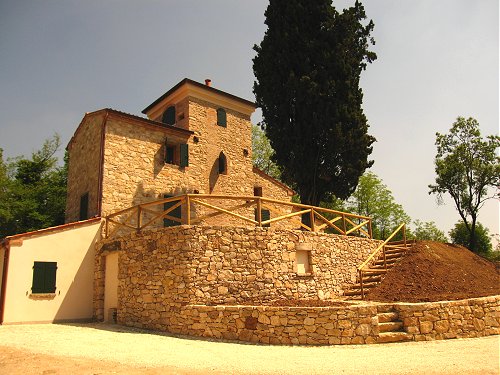 Roccolo Castelletto di Fontanafredda
On June 1st 2008 Beth and Nigel Walsh, happy owners of the restored 'Roccolo' tower of Fontanafredda, organised together with Properties in Italy and the law firm De Benetti & Co. a party to celebrate the restoration of their 'Tower' on the Euganean Hills.
It was a wonderful opportunity for us to celebrate together 2 years of hard work and efforts to bring back this stunning old tower (read more) to its splendour and share this event with our friends, business partners and the local authorities.
We had the pleasure to count among our guests the president of the Veneto Region, on. Giancarlo Galan, the mayors of the Communes of Cinto Euganeo, Vo' Euganeo and Lozzo Atestino as well as international guests such and Linda and Peter Travella.
Special thanks to our friends: Norma and Rob, Linda and Andrew, Denise and Donald, Prof. Giambattista Gasparin, Francesca and Roberto, Caterina, Carlo Bogoni, Anna Lasalvia and.................................................I cannot them mention all, sorry!
The party was great, a great fun and we all enjoyed at most the tower's beauthy in the wonderful setting of the Euganean Hills!
Next party will come......................soon! Will it be in Euganean Hills or in Venice??
Andrea - June 2008
| | |
| --- | --- |
| | |
| Nigel and Beth | Andrea and Max with Beth and Nigel |
| | |
| the party | the party |
| | |
| the band | Norma at the buffet |
| | |
| De Benetti & Co and Properties in Italy with Casa Travella | Andrea |
| | |
| Beth and Nigel with Andrea | Max and his niece Sofia |