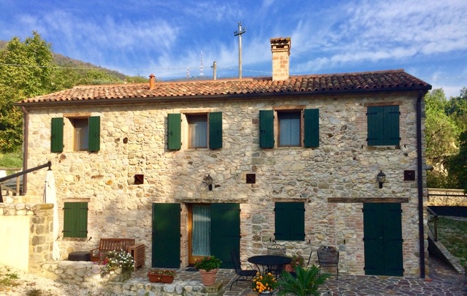 Charming country house - ref.91
This lovely restored stone cottage with its large patio offers views of the surrounding green hills, vineyards and olive groves in the center of an Italian regional park. The charm of this old country home comes with the benefits of all the modern conveniences. The ground level has the living room with a custom shelving/storage unit. The kitchen boasts countertops made from local stone and two ovens. An open fireplace faces both rooms. The cantina includes lots of storage. A full bath includes a washer & dryer. The first level has a master bedroom and a guest bedroom equipped with all the necessary outlets to provide the perfect area for a home office. The first level also boasts a large bathroom complete with a long floor-to-ceiling cherrywood wardrobe. The property has raised garden beds with an automatic watering system. In-ground and above ground watering systems cover the professionally landscaped yard, featuring a variety of fruit and nut trees, extensive lavender, rosemary, sage, and bayleaf along with flowering and evergreen trees. In addition there are two new storage sheds. One shed is electrified and is completed with a screened area that can be converted to a green house in the winter. This house is located not far from the main road along the Faedo valley, so car access to the property is very easy and connection to nearby highways (such as the A31) is only 10 minutes drive away.
With all the charm this home offers, it also has the benefit of being nestled in the heart of a magical place called the Colli Euganei (also referred to as the Venetian Hills). Here the landscape often makes one feel as though they have stepped out of time with it's mist covered hills and a unique blend of Alpine and Mediterranean plants that bloom in perfect harmony. The area has a unique and varied history of power, poetry and healing qualities. Only an hour away from such famous places as Venice, Verona, Bologna and less than thirty minutes from Padua, the Colli Euganei offers the chance to be enveloped in the Italian way of life. Unlike so many of the more famous locations in the Veneto, the Colli Euganei is a haven filled with wonderful natural beauty, amazing food and wine, and the opportunity to really live the traditional Italian lifestyle.
Price: Euros 395,000

Properties in Italy. e-mail: info@propertiesinitaly.net web: www.propertiesinitaly.net tel:+39 349 4520481
bathroom

courtyard
kitchen
kitchen living room
living room living room
bedroom
bedroom
bedroom

kitchen
kitchen
laundry laundry laundry
garden
garden
garden